✯

Our Team
Owner Ryan Pahmiyer – Licensed Heating and Air Conditioning Technician

Owner Darren Miller – Marketing and Sales Consultant, and Air Quality Specialist

Matt Hernandez – Air Quality Specialist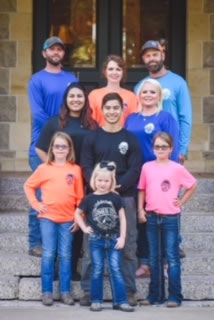 ✯

About Us
Welcome to Armer Air. We are a family owned and operated air conditioning, heating, and ventilation limited liability corporation. We proudly service Victoria Texas and the surrounding counties.
We are committed to providing our customers with personal, professional service, from experienced technicians, who not only know the business, but also care about helping our friends and neighbors live more comfortably.
We are trained in installation, repair, and maintenance on all makes and models of heating and cooling equipment. We offer service including maintenance, repair and installation of both commercial & residential air conditioning systems.
We are a proud authorized dealer of both RUUD and Rheem units.
Give us a call or request a quote online for a complete list of services or to schedule an appointment.
A/C & Heating Repair Coverage Area
Armer Air is licensed to install, service and repair both commercial & residential HVAC systems all over the state of Texas. Our primary air conditioning and heating repair and service area includes Victoria, Texas along with the towns below, which is roughly in a 60 mile radius around Victoria Tx.
Austwell, Texas
Bayside, Texas
Berclair, Texas
Blessing, Texas
Bloomington, Texas
Cuero, Texas
Edna, Texas
Fannin, Texas
Francitas, Texas
Ganado, Texas
Goliad, Texas
Hallettsville, Texas
Hochheim, Texas
Inez, Texas
Karnes City, Texas
Kenedy, Texas
La Salle, Texas
La Ward, Texas
Lolita, Texas
Louise, Texas
Mcfaddin, Texas
Meyersville, Texas
Moulton, Texas
Nordheim, Texas
Nursery, Texas
Olivia, Texas
Palacios, Texas
Placedo, Texas
Point Comfort, Texas
Port Alto, Texas
Port Lavaca, Texas
Port O Connor, Texas
Refugio, Texas
Seadrift, Texas
Shiner, Texas
Sublime, Texas
Telferner, Texas
Thomaston, Texas
Tivoli, Texas
Vanderbilt, Texas
Victoria, Texas
Weesatche, Texas
Westhoff, Texas
Woodsboro, Texas
Yoakum, Texas
Yorktown, Texas
Copyright© 2017
Victoria Web Design